NanoSound Player 2 Kit
NPLAYER2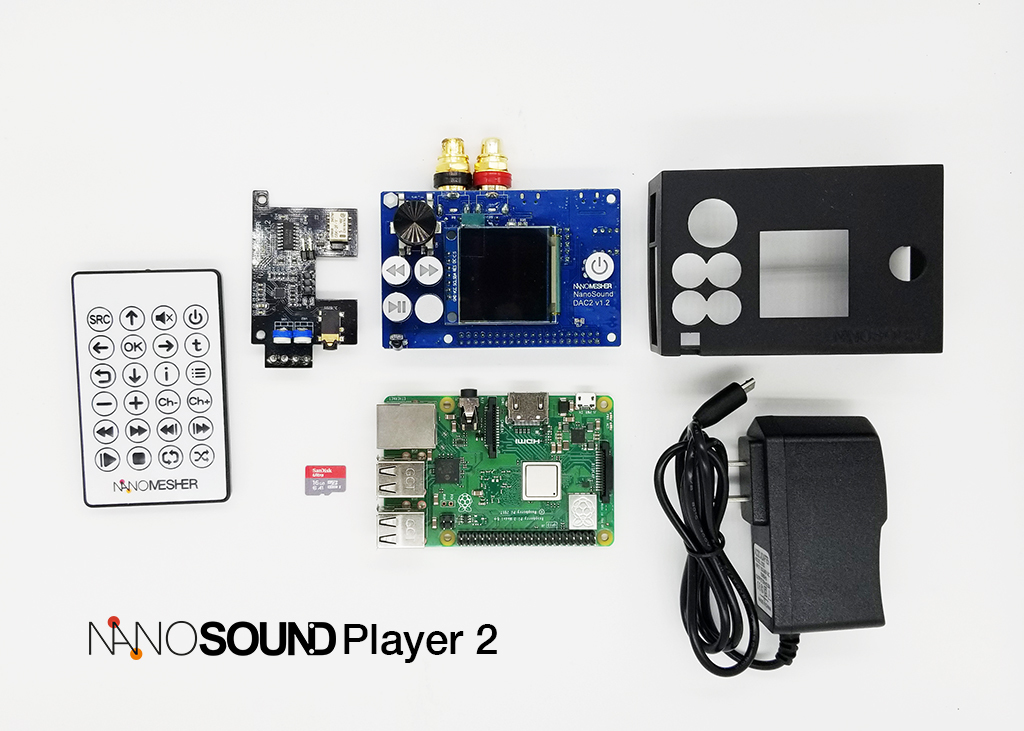 Now comes with NanoSound DAC 2!

The NanoSound Player is fully customizable and ready-to-play Network Music Player which can play any files including MP3, FLAC, WAV, AAC, FLAC, DSD, Audio CD and many more. It has an onboard Hi-Fi DAC (Digital Analog Converter) designed for Audiophiles and also supports a large number of music services including Youtube, Spotify and Web Radio.
It will only take minutes to assemble this kit and turn it into a Network Audio Player - No soldering required.
SPECIFICATION
General
• Wifi & Wired Ethernet Network
• Play everything - MP3, FLAC, WAV, AAC, ALAC, DSD and many more
• Spotify, Airplay, DLNA, Youtube & Free Web Radio
• Play from Internal Storage, NAS and USB Flash
• Control via Volumio App or Infrared Remote Control
• 1.5" Colour OLED or 1.3" OLED display with multi-language support
---
Audio DAC - NanoSound DAC2
Texas Instruments PCM5122 - 192kHz Sampling Rate / 24bit Resolution Burr-Brown DAC for best sound quality
2 x ultra precise master clock for lower gitter and better DSD performance
Improved and wider sound signal paths
Texas Instruments TPS7A4700 Ultra Low Noise Voltage Regulator
Switchable Power Option with auto-switching

Power from a single microUSB port or independently

Infrared Receiver and Remote Control
Raspberry Pi Power switch - Turn on and gracefully shut down Raspberry Pi System
4 GPIO buttons and 1 Digital Rotary Knob for Media Control
Hi-Fi Audio Grade electronics components. Capacitors from EVOX RIFA, WIMA and ELNA
Full open source and available from github allows anyone to take control of the software
Full Copper RCA Connector for maximum conductance
---
Amp - NanoSound Amp^2 (Optional)
5W Speaker + Headphone Amplifier
Switch On/Off via onboard bottons on the NanoSound DAC
Onboard relay rated up to 2A
Powered by single microusb or individually
4 layered PCB designed to eliminate internal interference from Pi
Headphone Amp
Input Voltage: 5V
Output Power: 24mW @20Ω, 22mw @32Ω
Signal-To-Noise Ratio (SNR): 100db @20mW
Total Harmonic Distortion + Noise (THD+N): 0.01% @25mW
Speaker Amp
Input Voltage: 5V
Output Power: 5W @2Ω, 3W @4Ω
Efficiency: 90% @8Ω , 85% @4Ω, 80% @2Ω
Signal-To-Noise Ratio (SNR): 90db
Total Harmonic Distortion + Noise (THD+N): 0.15%
The kit includes:
Raspberry Pi 3 Model B+
5V 2.5A Power Supply for Raspberry Pi (UK, Europe or United States Plug )
NanoSound DAC 2 Standard with 1.3" OLED Display or Pro with 1.5" OLED Colour Display
Infrared Remote Control
Sandisk Ultra 16/64/200 GB microSDHC with volumio and nanosound plugin preinstalled
Optionally you can add:
Volumio Setup Guide:
Installation Guide and Support
Kit Install Guide (below video is for NanoSound Player , NanoSound Player 2 has the same procedures):
DAC 2 Model

DAC 2 Standard - 1.3" OLED Mono Display (0)
DAC 2 Pro - 1.5" OLED Colour Display (20)

Amplifier

Not included (0)
Amp^2 - Speaker & Headphone Amp (25)

Storage

16GB (0)
64GB (15)
200GB (80)

Case

Not included (0)
3D Printed Case (Black) (27)

Power Supply

5V 2.5A Power Supply (US plug) (0)
5V 2.5A Power Supply (Euro plug) (0)
5V 2.5A Power Supply (UK plug) (0)
5V 2.5A Power Supply (Aus plug) (0)
RPi Original Power Supply - Universal Plugs (5V 2.5A) (9)

NanoSound CD

Not included (0)
With NanoSound CD Upsampling Playback / Extraction plug-in Full Version (Save US$ 10) (21.99)

USB CD/DVD Drive

Not Included (0)
Sony External DVD writer (DRX-S90U) (44.99)
Pioneer External DVD writer (DVR-XU01C) (44.99)