*NEW* NanoSound Archiver - Auto CD Extractor & Player
NANOSOUNDCDAR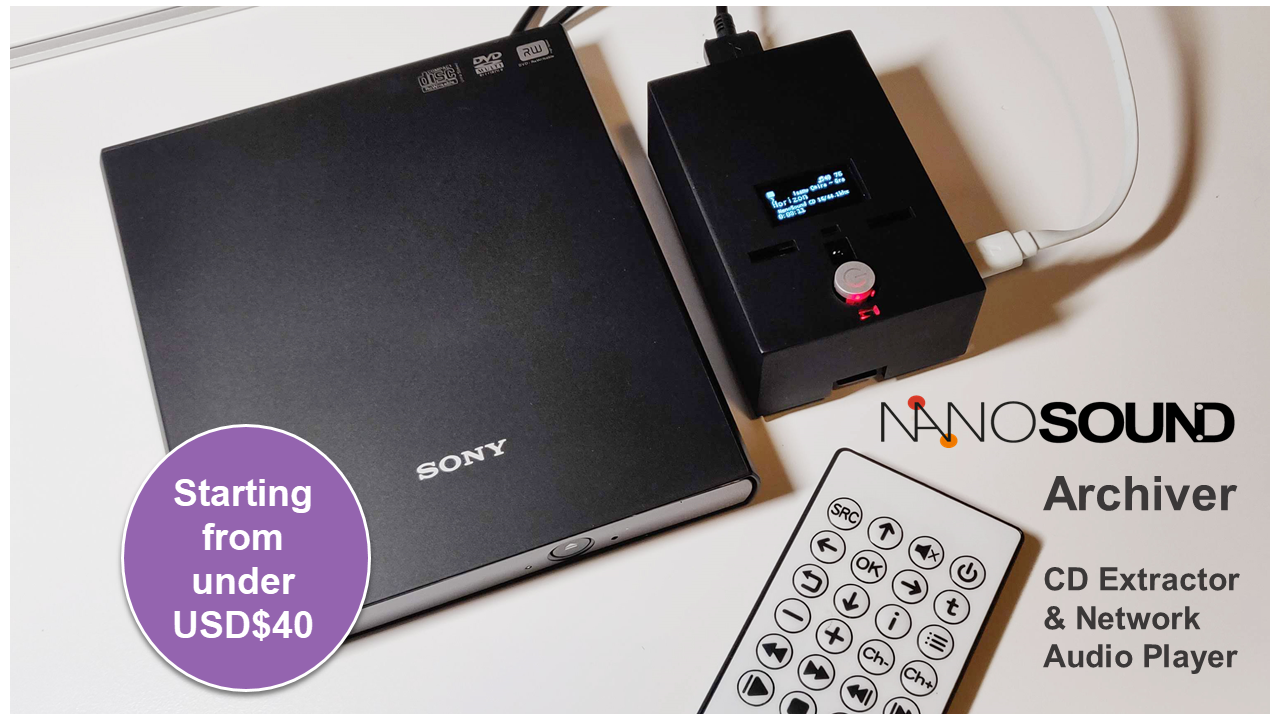 ** Include NanoSound CD Full Verion **
You have hundreds of CD which are sitting there waiting to be digitalised. Dedicated CD ripper are expensive , reusing a PC takes up space and use more electricity than needed.
When building this project, we have one mission is mind:
To build a

fully automatic

and

bit perfect CD ripper

which output to various

lossless format

which can also act as a network audio streamer
Moreover, the project needs to be easy to build and low cost and allows the customer purchase only what are needed - to bring their own Pi and USB CD/DVD drive for many component reuse.
If you already have a Raspberry Pi, USB CD / DVD and Sd card, It will only cost USD40 in total (plus shipping)
Components
NanoSound Archiver Controller Board - Provide infrared receiver, power control and display
Infrared Remote - Control music playback like a hifi system
Optional Items:
Raspberry Pi - World's most popular credit card sized computer, provide the CPU power and control function.
Case - in Matt black
NanoSound USB - Upgrade sound quality with our USB DAC (up to 24bit 96khz)
DVD Drive - We recommend thispioneer model. . It's quiet and can be powered only via Raspberry Pi
Features & Specs
General
Wifi & Wired Ethernet Network
Play everything - CD, MP3, FLAC, WAV, AAC, ALAC, DSD and many more
CD upsampling and extraction via improved version of NanoSound CD volumio plugin
Streams Spotify, Airplay, DLNA, Youtube, Free Web Radio, Tidal* & Qobuz*.
Play from Internal Storage, NAS and USB Flash
Control via

Volumio App or Infrared Remote Control

OLED display with multi-language support
NAS function allows you to use as network drive
3.5mm headphone jack out
Upgradeable to

NanoSound USB DAC

for audiophile level HiFi Audio
* - Requires subscription
CD Extraction
Bit Perfect

Audio Extraction (FLAC / Wav / Apple lossless) –

Verified with AccurateRip™

One Touch

or Automatic CD Extraction

Automatic CD info tagging and indexing for playback (Album name, Artist, Song names)

Save to USB Storage , Internal Storage or Shared Drive
Ripped files accessible via shared drive
Case

No Case (0)
Case for Raspberry Pi 3 B / B+ (29.99)
Case for Raspberry Pi 4 (29.99)

DVD Drive

Not Included (0)
Pioneer External DVD writer (DVR-XU01C) (47.99)

NanoSound USB DAC

Not Included (0)
NanoSound USB DAC (Save US$6) (49.99)