Thanks for supporting NanoSound CD – The best CD playing and extraction plug-in for Volumio.
Installation Instructions
Method 1 – Directly from Volumio's repository
This method is easiest but you might not always get the latest version because generally it takes longer for updates to be deployed to volumio repository
In volumio, go to PLUGINS -> Search Plugins -> Music Services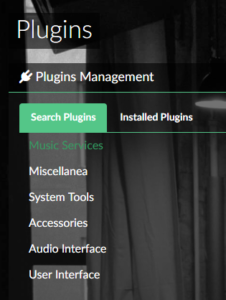 Find NanoSound CD and click install.  Be patient, even with a fast broadband connection, it will take around 15 – 20minutes to complete

Method 2 – Run the installation script
Always get latest using this method
NanoSound CD Plug-in Installation Script
Download installation script from above
Use Putty to SSH volumio.local . Default login and password are both "volumio"
Copy and paste the commands in the installation scripts and run them

Be patient, even with a fast broadband connection, it will take around 15 – 20minutes to complete.  It will appear to be at "Progress: 70" for a long time.  This is normal.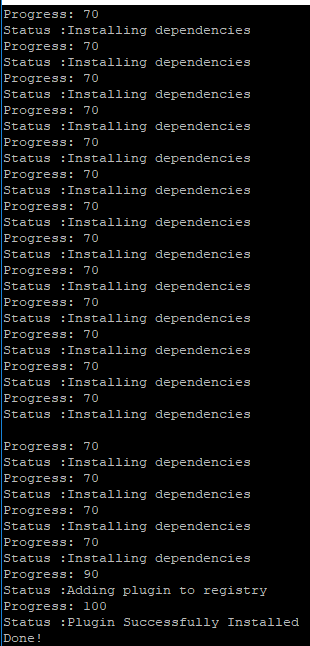 To monitor the installation progress, use below command:
sudo journalctl -f
After installation, a reboot required. This is because the alsa sound modules settings are changed.
Enable the NanoSound CD plug-in under Plug-in

To verify that installation is ok, check below services are running by running below commands:
systemctl status nanosoundcd_web

systemctl status nanosoundcd_progressweb


Method 3 – Pre-installed Volumio image
When you have trouble with method 1 and 2, you may try this method.
NanoSound CD Pre-installed Volumio image
Download the pre-installed image from above.  Use win32diskimager or your favorite tool to burn your image to your microsd (16gb or above).
"NanoSound CD" and "NanoSound by Nanomesher" plug-ins are pre-installed.  You do not need "NanoSound by Nanomesher" if you are not using NanoSound DAC (but we recommend it 🙂 ).
Registration for Full version Features

To access full features of NanoSound CD, such as upsampling and extraction, go to Settings of NanoSound CD to register.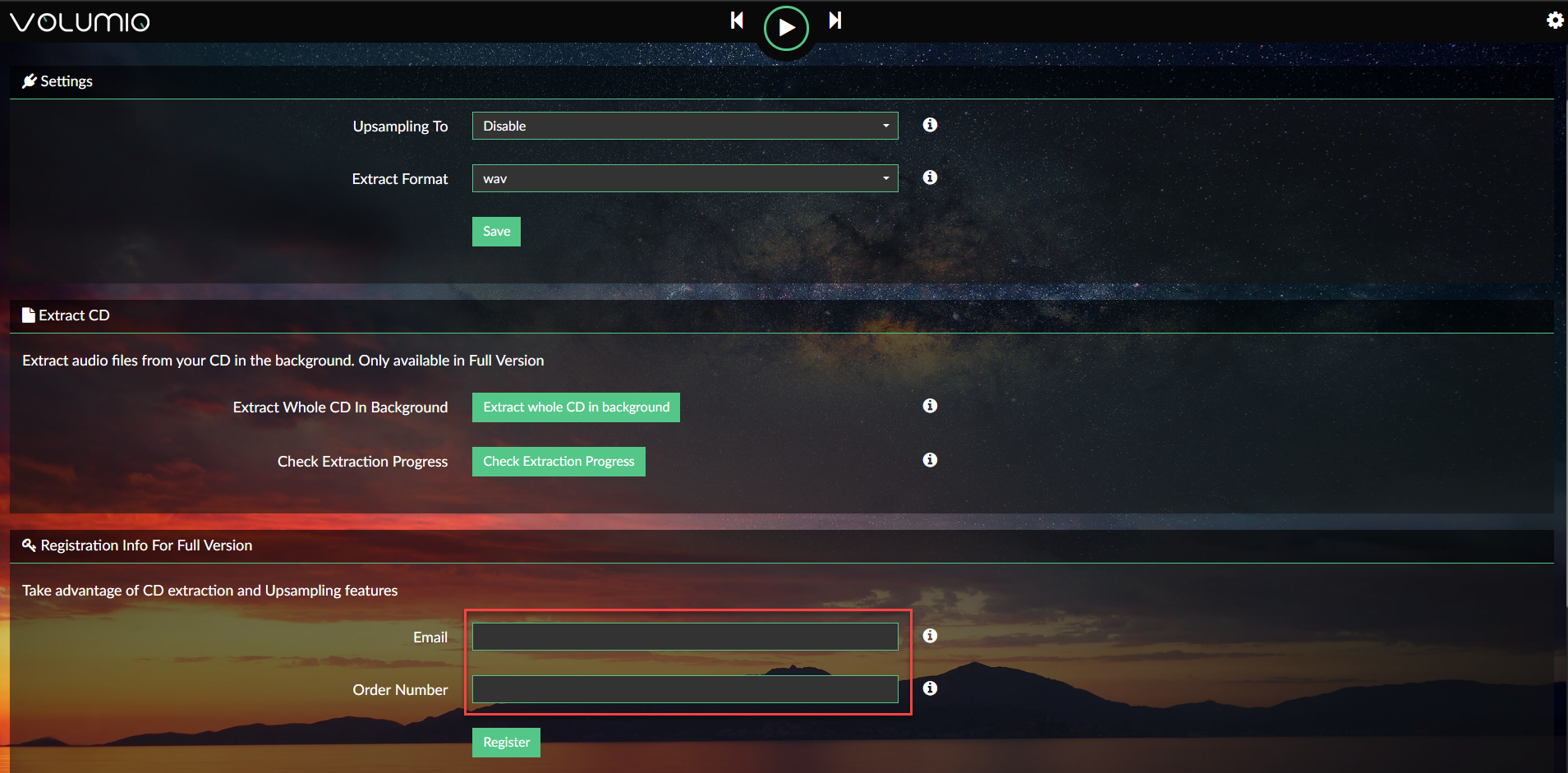 If you haven't already done so, purchase your license key here
In email, please enter:

The Email you used for purchase via kickstarter or Nanomesher store

In Order Number:

If you purchase via Kickstarter, please enter your backer number prefixed with "KS".  For example if your backer number is "123", enter "KS123".
If you purchase via Nanomesher store, just enter your order number without any prefix. For example, if you order number is #456, just enter "456".

Click Register, you should then see a success message hopefully and get all the full features.
Note that this is an early access beta release, if there are problems / bugs, please email us on info@nanomesher.com
Release Notes
2019-06-08

Bug fix on extract to USB flash drive

2019-04-13

Support CD cover loading (enable in settings)
Support CD Eject.  If you use upgrade function in NanoSound CD Settings to upgrade, you need to install the library with below command.

sudo apt-get install eject

 2019-03-30
2019-02-27

Handling of no CD inserted
Support upgrade from plug-in

2019-02-17

Initial Release of Plug-in

2019-02-22

Support multiple languages (English, German, Spanish, French, Italian, Japanese, Chinese, Korean)
Fix bug to pick up new settings after saving
Fix bug to detect sound device for Tinkerboard

2019-02-24

Support version update from NanoSound CD settings

run /home/volumio/nanomesher_nanosoundcd/upgrade.sh to force update

2019-02-27

Bug fix to handle no CD inserted
Usage
Playback
Once the NanoSound CD plug-in has been installed, to play CD, go to browse and choose Nanosound CD
This video would help you with CD playback. Upsampling options are available in NanoSound CD settings.
Audio Extraction
For CD Extraction, there are 2 ways currently:

In Extract CD section under NanoSound CD settings

By default, the extracted files are saved in the microsd card (/mnt/INTERNAL).  If you want to change the location, you can change the settings in NanoSound CD plug-in settings:

To save to NAS drive, enter 'NAS/your-share-name'
To save to USB drive,

From version v.1.1.2, enter 'USB'. It will automatically choose your USB flash drive if there is only one inserted.
Enter 'USB/your-usb-volume-name'.  To check your volume, you can either check from your Pi or computer. Note that it's case sensitive
Pi

Computer

In this case, the usb volume name is "MYUSBDRIVE", therefore below should be set in the extraction path

Integration with NanoSound DAC
NanoSound CD seamlessly integrates with NanoSound DAC to leverage on the display, control buttons and remote control.  However, NanoSound DAC is optional, so you can use any DAC with NanoSound CD.  If you are using NanoSound DAC, we highly recommend you to upgrade your NanoSound volumio plug-in to v1.6 or above.
Troubleshooting / Advanced Config
Make sure your CD/DVD USB drive does not draw too much power.  The Sony one which we sell draws 1A max and can be directly powered via Raspberry Pi, other drives might need external power. Please let us know (email to info@nanomesher.com ) if certain drives works well or not.
If there is no sound coming out while playing CD:

Try the Auto Audio Reconfig function under NanoSound CD. This will attempt to select the best audio device for you. Reboot after running it.
Check if there is enough power for the CD/DVD drive. Use an external power supply if in doubt.

To set your extraction destination to NAS, make sure you specify 'rw' in options in your NAS mount. This will allow write access to your mounts under /mnt/NAS.  In below example, if you would like to store the extracted audio files to below NAS share, in NanoSound CD plug-in settings, set Extraction to Path to 'NAS/mymusic'


Issues Log
Issues are being tracked here
Developer's Info
For developers, here are some info which would be useful for you to hack!
NanoSound CD is highly complexed and have multiple components and not all components are open sourced / free. Here's a breakdown:
Nanosound OLED.  The display / control software for NanoSound DAC. Installed in /home/volumio/nanosound_oled.  Open sourced in github.
Nanosound by Nanomesher. This is the NanoSound DAC volumio plugin.  Open sourced in github.
Nanosound CD. This is the volumio plugin installed in /data/plugins/music_service/nanosound_cd/ .   Open sourced and in github and will be merged into volumio's github later.
NanoSound CD services. These services are not open sourced and are REST web daemon services which interface between NanoSound CD volumio plugin, VLC and Python Audio tools.  These services are installed in /home/volumio/nanomesher_nanosoundcd. You can check the status of these services by these commands:

systemctl status nanosoundcd_web

systemctl status nanosoundcd_progressweb
3rd Party libraries / tools